We pride ourselves on the passion we put into every detail of our projects. We enjoy working with clients who have a strong vision and an equal drive for success. It is of vital importance to us that the finished product on event day is the best it can possibly be.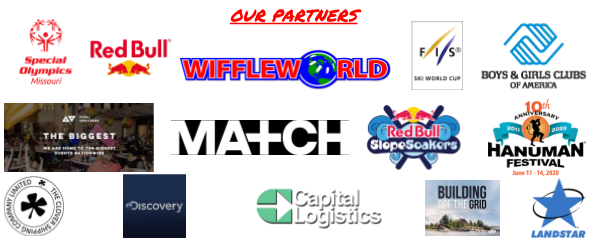 OTA has seen some of our country's best athletes accomplish seemingly impossible feats. We've been with cancer survivors at finish lines they never imagined they would cross. We've been there when millions of dollars are raised for charities, big and small. Whatever you're idea is, we're happy to help you accomplish it!
Assessment & Consultation: Everything is a dream until it's real. Contact us and let us know what it is you'd like to do. We can walk you through it, step by step. We will work through a feasibility assessment, develop a budget, determine financial projections, and consult in a manner beneficial to the client.  Your idea is a reality, much closer than you imagine! Don't let it scare you.
Project Management: Whether it's producing a made-for-television event or managing a temporary build site, OTA does it. Events, weddings, corporate and private parties. Head to toe. Start to finish. We even clean it up. We do everything. We market, we advertise, we sell, we design, we warehouse, we manage. You name it…we do it.
Concept Creation: Embedded in the world of event production, OTA enjoys seeing good things done the right way. Sometimes that means doing it ourselves. The brains at OTA have developed numerous events, helped to produce the extreme action sport events seen on your television, produced a multitude of private parties and weddings, and are ready for whatever comes next.
Brand Development: We've seen some of the world's most recognized brands develop their stronghold through sponsorship of signature events. Red Bull, Samuel Adams, Nike, ESPN, Rockstar and Rolex have all developed their own culture through means of dynamic sponsorship! Details matter. OTA partners with our client to develop an event campaign that will push your brand to new heights. Together we create an event that will associate you with greatness!
Logistics: Do you have an idea but aren't quite sure how to make it happen? Maybe a charity event? Have a fundraising idea? Or perhaps you simply want to promote your brand. We've done them all. From the thousands of phone calls, to the permitting, to event day management, and the clean-up afterwards. Logistically…OTA is your dream come true! Together, we will make it a reality!
Out of the Ash Productions is proud owner of WiffleWorld: The Global Wiffleball Alliance. For more information and to register for tournaments in your area, visit: WiffleWorld 
Out of the Ash Productions is a full service wedding and party production company. Unlike the hundreds of other planning companies you may notice online, your idea for a wedding or party must be unique, fresh, and complicated for OTA to take on your project.
Your wedding day should be the most special day of your life. Your party should be the best party. And your guests, whether wedding guests or party guests, should leave knowing they'll never forget what they just took part in. Don't settle for an ordinary day; make happen what you've always wanted. When everyone else looks at you like you're crazy….come to us. We'll go crazy with you!
Our philosophy at OTA has always been to invent, produce, and manage the special moments better than anyone else. With this in mind, we limit the projects we take on. It is of the utmost importance to be sure that the projects we do accept are given every ounce of attention they deserve. We go where you want to go, find the perfect location to make something special happen, sort out the best vendors to ensure an extraordinary experience, and make your dreams come true. It doesn't matter if you want to get married on an island or on top of a mountain, OTA has production experience in nearly every single state, as well as abroad. There are no projects too big, no places too far, no dreams too complicated.
Talk to us about your ideas. Tell us about your dreams. Let's go make them all come true.
Contact us to learn more about personalizing your special day. We'd love to learn about your vision and let you know how we can help.
OUT OF THE ASH PRODUCTIONS
info@otaops.com
Evergreen, Co
970-903-2796
 Facebook, Twitter, LinkedIn
Imagination to Reality.
info@otaops.com